Scotland is home to a near-endless list of castles. Many lie in ruins, mere shadows of their impressive former structures, though no less fascinating to explore. Others, though, have been carefully and expertly restored to resemble the magnificent structures they once were, both inside and out.
These castles aren't just for tours either – many have been turned into some of Scotland's finest hotels. If you're immediately thinking about booking a trip to Scotland, we can't blame you — just make sure to check out these five incredible castle hotels near Edinburgh for an experience you'll remember for years to come.
Castles to Stay Near Edinburgh
This exquisite castle hotel is an hour west of Scotland, and only 20 minutes south of Glasgow – perfectly situated for day trips to either of Scotland's two largest cities. With a dazzling 17th century castle sitting on 14 acres of beautifully manicured gardens (there's even a waterfall), Crossbasket Castle has been lovingly restored and turned into one of Scotland's most luxurious castle hotels.
Each bedroom is equipped with only the most opulent of décor – enormous period-style beds, antique chandeliers, and ancient windows providing excellent views of the immaculate grounds. The nearby East Lodge is available for those requiring more space – it has three bedrooms, a lounge, and a living area with a fireplace and a full kitchen.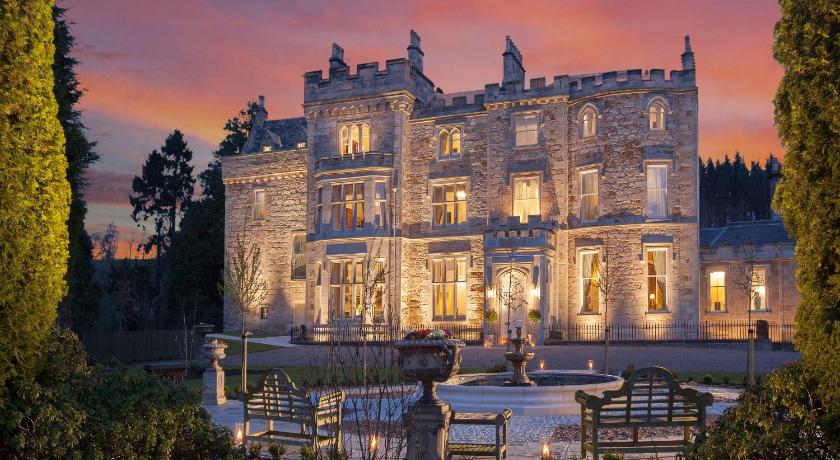 Meals are served in the Albert & Michel Roux Jr Restaurant, in the Baillie Room. The dining area is beautifully decorated with chandeliers, fine linens, and gold leaf details for a dining experience of times long gone.
For things to do, try a daytime castle & historic homes tour with a private driver. Or, if you'd rather get outside and take in the beautiful scenery, you won't want to miss the Falls of Clyde, a nature reserve famous for its beautiful waterfalls and birdwatching.
Click here for more information and to check the latest prices.
Located just a 40-minute drive south of Edinburgh, Cringletie House is a beautiful hotel escape on 28 acres of woodland and hillsides. The exterior features a rich reddish brick, original windows and pointed turrets.
Accommodation includes classic or deluxe rooms, junior or luxury suites and the Ardean Cottage. The room decor is comfortable and polished, with rich linens, four poster beds and seating areas. The cottage includes added comforts like a dining area, full kitchen and a private outdoor terrace with a hot tub.
If you're after a quiet retreat, you won't need to leave the castle grounds. On the estate's 28 acres of land, there are nature trails, picnic areas and beautiful walled gardens containing a grove of Scotland's oldest yew trees. After meandering the countryside, slip into the Sutherland Restaurant for traditional Scottish fare. Grab a wee dram in the hotel bar, which has an impressive selection of Scottish whiskies.
Click here for more information and to check the latest prices.
Melville Castle Hotel is a castle hotel near Edinburgh, just a 20-minute drive south. The castle is Gothic in design and dates as far back as the late 1700s, though it was originally the site of a castle built in the 1100s. It was a reprieve for Mary, Queen of Scots, during her troubled marriage to her cousin Lord Darnley.
The castle's 33 rooms and suites are decorated in a style that favours medieval accents like four-poster beds, rich dark window drapes, glossy wooden antiques and ornate wall hangings. The hotel's Brasserie Restaurant is in the cellars of the castle – with its welcoming fireplace and low warm lighting, it is the epitome of cosy and the perfect spot to grab dinner and a drink. For hotel guests, the free breakfast offers the choice between a full Scottish or continental breakfast.
The Broomieknowe Golf Course is just a few minutes down the road. The Gilmerton Cove caves are just a five-minute drive away, which offer private tours of mysterious hand-carved tunnels winding underground.
Click here for more information and to check the latest prices.
The Carberry Tower Mansion House is an imposing, grandiose 18th century castle set on a 35-acre property. While the current structure is more recent, the site dates back to the 1400s. It is only a 20-minute drive east of Edinburgh. It has also been visited many times by Queen Elizabeth and the Windsor royal family!
This upscale hotel boasts a variety of beautiful rooms and suites, all offering beautiful views of the surrounding estate. Suites boast fireplaces, en-suite bathrooms and complimentary selections of fine teas and coffees. If you book the Turret Suite, there's even a spiral staircase to reach your room – a romantic addition to your stay.
The Campaign Room Bistro offers breakfast, lunch and dinner options. Afternoon tea is served in the castle's first floor drawing room, with indulgences like homemade scones with house-made jam and clotted cream, cakes and small sandwiches.
Being so close to Edinburgh, it's easy to make a short trip into town to see some of Scotland's most famous attractions – the Royal Botanic Gardens, the National Museum or Edinburgh Castle.
Click here for more information and to check the latest prices.
Fa'side Estate dates from the 15th century when it was built as a military keep. It was renovated in the 1980s and restored to its original glory. Today, it is a private residence but doubles as a quaint bed and breakfast hotel, located just eight miles from Edinburgh.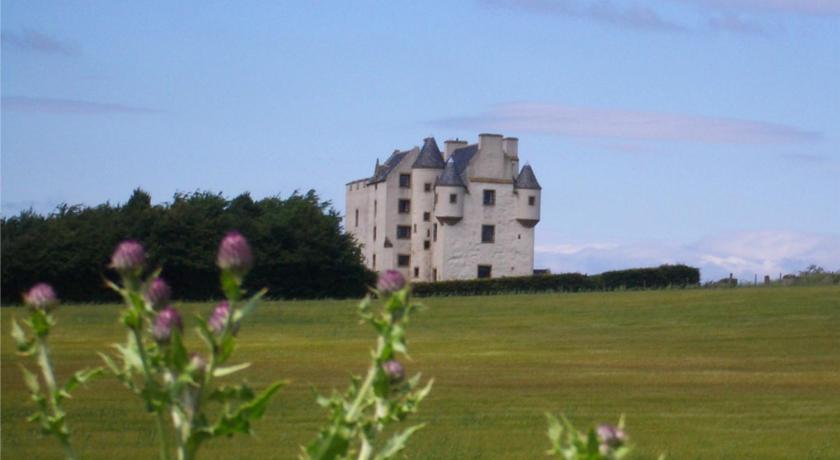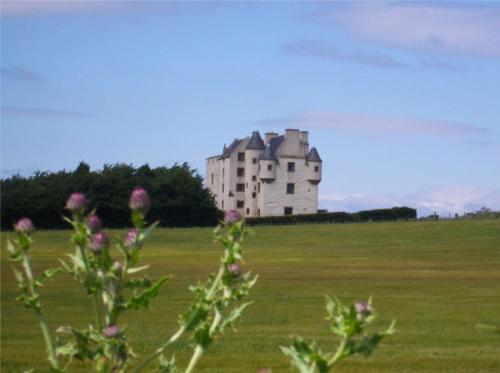 The bedrooms are located at the top of the 14th century tower. Some rooms offer a seven-foot wide bed and antique decor to make you feel like you've travelled back in time. Tower hotel guests also have exclusive access to what is easily the castle's coolest room – the Great Hall, which has a large stone fireplace. When inside, look for the remnants of the now-inaccessible original stone staircase.
The location is ideal – just a short journey to Edinburgh for a little excitement, but set in a quiet country area where you'll feel like you've stepped into the past. The grounds of the estate have a horse breeding facility, a 17th-century barn and flocks of Wensleydale sheep roam the grounds.
Click here for more information and to check the latest prices.
You might also like:

The best Scottish Castles

The best castles near Edinburgh.