If there's one thing Ireland has a lot of, it's castles. Many date back to the earliest medieval days – some in ruins, and some have been restored to their original glory. Of these restored castles, not all are simply tourist attractions – some have been established as some of the country's finest hotels.
Much of Ireland's excitement is concentrated in the capital city, and luckily there is a variety of castle hotels near Dublin. Whether you're seeking a luxury escape or just a weekend getaway, these four castle hotels are some of Dublin's finest.
Castles to Stay near Dublin
Clontarf Castle is where ancient history meets modern luxury, and it's easily one of the best castle hotels in Dublin. Located only a ten-minute drive from Dublin's city centre, this is the perfect Irish castle getaway. While a castle has stood on this land since the 1100s, even once a stronghold of the Knights Templar, the current structure dates back to 1837. The hotel has added even more modern wings onto the updated castle.
Bedrooms are sumptuously decorated, with antique furnishings and embroidered jacquard linens reminiscent of medieval times. Upgrading to luxury suites allows for four-poster beds. All rooms have a (generously) stocked minibar and 24-hour room service.
There are multiple dining options at Clontarf Castle – Fahrenheit Restaurant, with a sophisticated contemporary menu in a hall featuring exposed wood beaming and stained glass windows; the Indigo Lounge, where craft carvery is served in a sleek modern space; the Knights Bar, serving traditional Irish fare from locally-sourced ingredients in a 12th-century bar; and afternoon tea services, which are offered daily in the hotel's Atrium lobby.
Alongside the fitness centre, the hotel offers wedding and conference packages. The property is located a stone's throw from St. Anne's Park, the Clontarf Golf Club and North Bull Island (a nature reserve connected by causeway to the mainland, perfect for hikers).
Click here for more information and to check the latest prices.
Kilkea Castle Hotel is located an hour southwest of Dublin. This is one of the oldest still-inhabited castles in all of Ireland, and was originally a medieval stronghold defense. It remained in the possession of the Fitzgeralds, one of Ireland's oldest and most powerful families, for over seven centuries. The castle is set into nearly 200 acres of woodland and surrounded by beautiful gardens.
This boutique hotel offers 11 rooms spread throughout the main castle and the adjoining carriage and lodge buildings. Bedrooms are luxuriously decorated, boasting marble bathrooms and exquisite antique pieces. Rooms offer beautiful views of the rose garden, Greese River or the courtyard. Guests staying in the Fitzgerald Suite, at the very top of the Round Tower, have 360-degree views.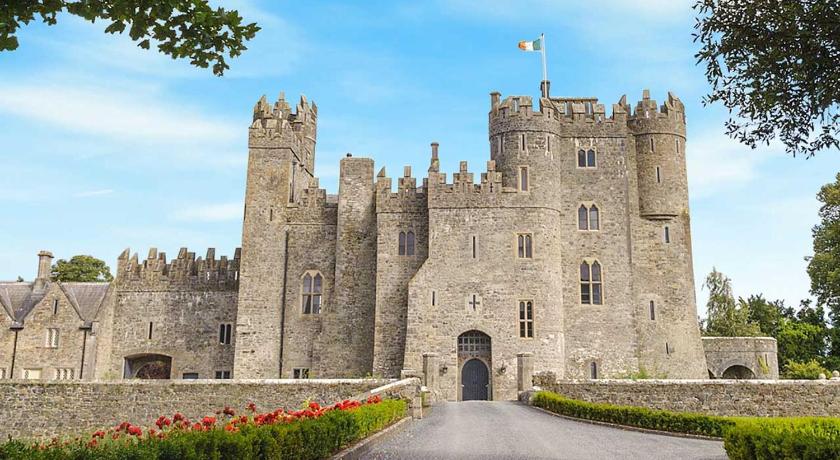 Castle dining leaves nothing to be desired – experience fine dining at Restaurant 1180 and Hermione's Restaurant, a laid back meal at the Clubhouse Bistro, or relax with a pint of Guinness at the Keep, the castle bar.
There are several activities to keep you busy – whiskey tasting, horseback riding, archery lessons, falconry, personal training or golf, to name a few. The castle has a luxurious spa with five private treatment rooms, a thermal hydrotherapy pool and a 'beauty room' where makeup applications are offered.
Click here for more information and to check the latest prices.
This stately castle hotel near Dublin is just a half hour from the city centre, in the suburb of Killiney. The castle dates from the 18th century and overlooks Dublin Bay. The rooms are a mix of classic rooms, ocean view rooms (with balconies), family rooms and upscale suites (which add sitting rooms).
You'll never go hungry at the Fitzpatrick Castle Hotel, thanks to a multitude of dining options. Mapas Restaurant offers traditional Irish fare using locally sourced ingredients; PJ's Restaurant serves inventive creations both domestic and continental; and the Library Bar for delectable cocktails. Afternoon tea is also available, including mini sandwiches and desserts.
The castle is equipped with a full fitness centre and heated indoor swimming pool, so you don't miss out on your workouts. There are also group classes for aqua fitness, spin classes, and TRX circuit exercise. You'll really feel like you earned the post-workout soak in the hot tub or sauna room.
Want to get outside of the castle grounds and stretch your legs? Killiney Hill Park is just a short walk away, and just a five-minute drive south down the road is Killiney Strand, a lengthy sandy beach popular for swimming and fishing.
Click here for more information and to check the latest prices.
Located in the countryside of County Meath and just a half hour drive from Dublin's city centre, Dunboyne Castle Hotel is a stunning 18th century Georgian-style manor house with a spa.
Rooms are cosy and modern, decorated with tasteful colour accents and rich fabrics. Upgrading to the luxury suites adds antique furniture, a four-poster king size bed, soaker bathtub and private balconies. All rooms come with basic creature comforts – free Wi-Fi, TVs with entertainment systems and a tea & coffee station.
In addition to their luxurious guest rooms and suites, the castle boasts a top-of-the-line spa. The Seoíd Spa (meaning Gem in Irish Gaelic) offers a seemingly endless menu of treatments, including deep tissue massage, reflexology, facials, body wraps & scrubs and unique experiences like hot sand therapy, hydratherapy and mudding.
If you're looking for somewhere to eat, grab some modern fare from the Ivy Restaurant. Check out the Terrace Lounge for lighter meals or afternoon tea, or, in the evening, grab a relaxing drink and a bar snack at the Sadlier Bar.
Click here for more information and to check the latest prices.