In a country like Scotland, with its rich and romantic history of kings, queens, clans, and battles, you'd be surprised at how many castles are still standing in this beautiful land. Many have been reduced to ruins, but just as many have been restored to their former glory.
As a visitor, you can even stay in many of these castles, which have been turned into incredible hotels and B&Bs. When else in your life would you have the chance to stay in a historical castle, touch its stone walls, and revel in its stories? These are just some of the incredible Scottish castle hotels that the country has to offer, but they are the best of the best.
Disclaimer: This post contains affiliate links. This means that should you click on certain links, and then subsequently purchase a product, I will receive a small commission.
Best Castles to Stay in Scotland
Location: Cockpen
Located in Midlothian and just eight miles south of the capital city of Edinburgh, the Dalhousie Castle Hotel is a beautiful 13th century castle that overlooks the River Est. Throughout history it has hosted many major figures, from King Edward I to Oliver Cromwell. It has distinctive red coloring and its exterior turret is covered in climbing ivy, making it look like something out of the pages of a book.
The hotel offers luxury accommodation, delectable treatments at the in-house Aqueous Spa, and even falconry demonstrations within the grounds. There are two luxury restaurants, and the castle even offers a sumptuous afternoon tea.
Click here for more information and to check the latest prices.
Location: Ayrshire
Glenapp Castle is a beautiful 19th century castle located just south of Ballantrae, in Ayrshire, on Scotland's western coast. Built in 1870, it became a hotel in 2000, and quickly became one of the most luxury castle hotels in Scotland. It sits close to the coast, with beautiful views of the Isle of Arran. It's located very close to other area sights – Galloway Forest Park, several botanical gardens, and Mull of Galloway, the most southern point of Scotland.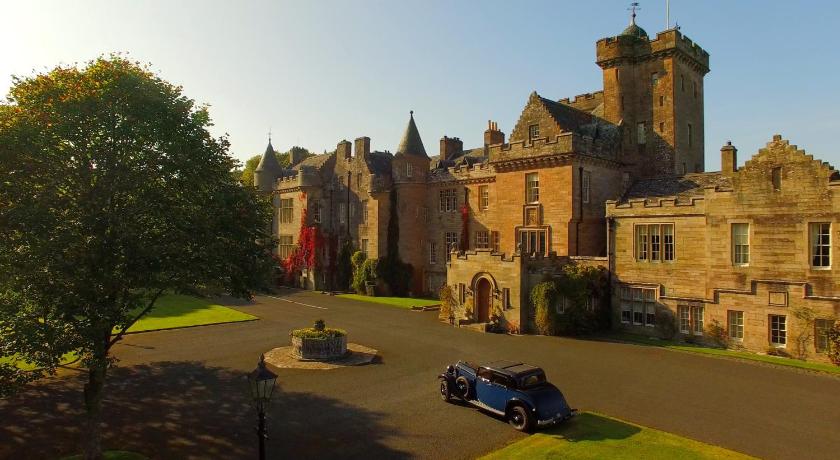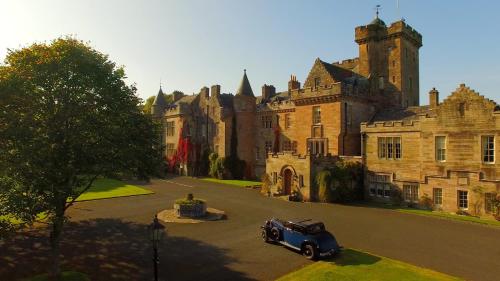 The castle has maintained the Baronial style of its rooms for an immersive castle experience. Guests can take part in fishing activities, a sea safari, distillery tours, and much more.
Click here for more information and to check the latest prices.
Location: Lochgilphead
The beautiful and ancient Kilmartin Castle is a modern-day bed & breakfast located in the western Scottish highlands. It dates back 500 years and was recently restored after two centuries of abandonment. It maintains its beautiful, rugged stone exterior, and the inside still feels like something from the pages of a history book.
The hotel is self-catering (aside from breakfast), though the private chef is available. It is pet-friendly, and eco-conscious. Nearby, discover the history of Kilmartin Glen (and its many standing stones and Stone Age remnants), take a three-minute walk to the Kilmartin Hotel for a drink at the pub, or indulge in fresh seafood at the Tayvallich Cafe.
Click here for more information and to check the latest prices.
Location: Perthshire
Dalmunzie is a former laird's mansion on a 6,500-acre estate that dates back to the 1500s, and is now a quintessential Scottish castle hotel. Its exterior features Baronial-style stone turrets. It is surrounded by incredible mountain scenery, rivers, and green rolling hills. It has 17 rooms, a banquet-style dining hall, a cozy bar ('The Bar Snug'), and several lounges with fireplaces and large cushy armchairs.
The castle is located in a wonderful area for outdoor activities, such as golf, hiking, mountain biking, and walking trails to see the other castles in the area. If you are so inclined to try it out, the hotel offers clay pigeon shooting. If you like to ski, Glenshee Ski Centre is only six miles away.
Click here for more information and to check the latest prices.
Location: Scottish Highlands
The Inverlochy Castle Hotel is a baronial mansion built in the 19th century. It is named for Inverlochy Castle, whose ruins are located just two miles away. The hotel is near the base of Scotland's tallest mountain, Ben Nevis. Each room at the hotel has its own unique design and all offer views of the gardens or mountains.
There is plenty to do in the area. Visitors can visit the Ben Nevis Distillery (one of Scotland's oldest distilleries still in operation today), explore the ruins of Inverlochy Castle, or drive seven minutes south to the town of Fort William and learn more of the history of the Scottish Highlands.
Click here for more information and to check the latest prices.
Location: Sutherland
Dornoch Castle Hotel is a 15th-century castle just across from the eponymous 12th-century cathedral. Originally constructed in 1500 as a homestay for bishops of the Caithness diocese, it is located an hour north of the town of Inverness, and boasts 24 rooms.
Guests can enjoy the activities offered in the area, such as golf, distillery tours, and plenty of hiking and biking trails. If you have access to a car, the NC500 is known as 'Scotland's Route 66', as it passes through endless towns and villages each with their own charm and perfect for a day of exploring.
Click here for more information and to check the latest prices.
Location: Biggar
Cornhill Castle is an impressive stone castle in Biggar, located just an hour south of both Glasgow and Edinburgh. Its many rounded turrets and pointed roof peaks give it a quintessentially castle-like look. It is set on 10 acres of countryside, surrounded by fields and meadows. The rooms are decorated with historical touches, and the castle has even maintained its Grand Ballroom.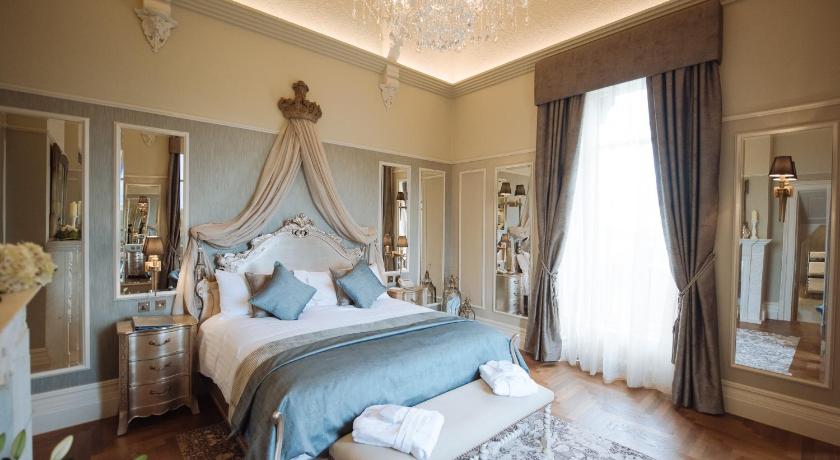 The hotel offers fishing and golfing, and if you are planning to take any day trips, there is plenty to do in Glasgow and Edinburgh, only 28 miles north. The restaurant is home to The Ghillie Restaurant, which specializes in Scottish cuisine native to the region – specifically, fresh salmon and wild brown trout.
Click here for more information and to check the latest prices.
Location: Pitlochry
This is a beautiful 18th-century castle with views of the surrounding valley. It is located very close to Pitlochry Train Station if you are arriving via train. Each bedroom in the castle is unique, with modern touches for added comfort and details that favor historical design elements. All rooms have incredible views.
The area has many historical sites to visit, such as a bronze age crannog, ancient stone circles, and the Black Castle ruins of Moulin, reportedly abandoned after fear of plague infestation. If you are interested in exploring your roots, there is even a genealogy center just a few minutes' drive south, in Dunkeld.
Click here for more information and to check the latest prices.
Location: Argyll
Stonefield Castle is a beautiful, 19th century castle overlooking Loch Fyne. When the interior and exterior are this beautiful, who wouldn't want to stay in a Scottish castle? The interior maintains many original pieces, as well as details like wood paneling, marble stone fireplaces, and beautiful vaulted ceilings. The castle is set on 60 acres of woodland, and being perched on the edge of the loch it has a fairytale appeal.
There's no shortage of things to do. Guests can enjoy fly fishing, horseback riding, golfing, or distillery tours. If you'd like to take a day trip, Tarbert village is just two miles away, and if you're lucky, you'll spot the pod of dolphins who pass seasonally through the harbor.
Click here for more information and to check the latest prices.
Location: East Lothian
Originally built as a keep in the 15th century, Fa'side Castle was carefully restored in the 1980s. It is located just eight miles east of Edinburgh. The grounds of the estate have a horse breeding facility, a 17th-century barn, and flocks of Wensleydale sheep roam the grounds.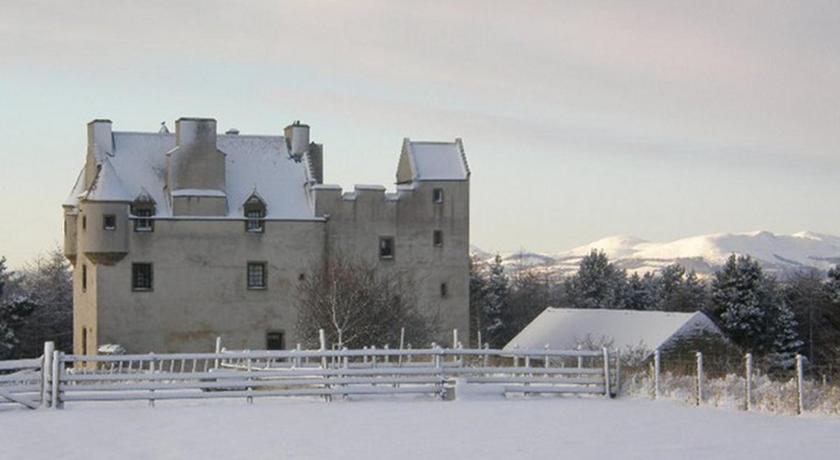 The guest area of the Fa'side Estate is in the tower of the keep, with a seven-foot wide bed and decor to make you feel like you've traveled back in time. Guests staying in the tower have exclusive access to the castle's best room – the Great Hall, with its old stone fireplace and remnants of the now-inaccessible original stone staircase.
Click here for more information and to check the latest prices.
Location: Tain
This stunning Victorian-era castle makes for a perfect Scottish castle hotel getaway. The castle is located in the heart of the Scottish Highlands and features 19 rooms that have been expertly restored to their original glory. Guests of the hotel can participate in several activities offered by the hotel, including golf, fishing (by sea or by loch), and whiskey tasting.
Tain, the city in which Mansfield Castle is located, has a rich history that any visitor would find fascinating. There are several castles, the Glenmorangie Distillery, and even a fine cheese factory. In nearby Tearn, the eponymous abbey's parish church dates back to 1772.
Click here for more information and to check the latest prices.