Often referred to as the heart and soul of Italy, Tuscany offers the best that the country has to offer for scenery, cuisine, and wine. The area has deep roots in history too. Its beautiful rolling hillsides are home to more than just ancient medieval vineyards – this is one of the best areas in Italy to stay in a castle hotel. From former military strongholds to castles walked by royalty, so many of the region's oldest castelli have been restored to their former glory and turned into boutique and luxury getaways. If you've ever dreamed of visiting the famed Italian countryside, this list of castle hotels to stay in Tuscany is a great place to start.
Best Castles to stay in Tuscany
The Castello di Vicarello is a beautiful 12th-century castle-turned-hotel located between Florence and Rome, nestled in the verdant Maremma countryside. The honey-colored stone makes the castle look like something out of a classical Italian painting. However, its ambiance brings elements of Bali tradition to the table, where the owners lived prior to relocating to Maremma. You'll find this predominantly in their award-winning spa which offers Balinese massage and yoga, as well as the infinity pools.
The hotel's nine accommodations are a mix of suites and private villas, with panoramic views and comforts like jacuzzis, private pools, saunas, and terraces. To make your time here truly unforgettable, the hotel offers wine tastings, cooking classes, truffle & olive harvesting, and even a leather-making workshop. Hotel food is second to none, serving fresh food (much of which is produced on-site from the hotel's beehives, gardens, vineyards, and farm chickens). End your day with a glass of the house red wine sipped under the stars.
Click here for more information and to book your stay.
Perched high on a hilltop overlooking the Val d'Orcia on all sides, the Castello di Velona is a 10th-century castle turned into an upscale hotel. Originally a medieval fortress, the property retains its original stone walls and its 12th-century watchtower. There are two options for guest rooms – the Monumental Rooms, which feature traditional medieval Tuscan decor, and UNESCO Rooms, which are modern in style with natural hot spring tubs and private patios.
The hotel offers a lengthy list of activity options during your stay, such as horseback riding, hiking, cycling, and tours of nearby Siena. There are many wine tasting and food pairing workshops available. If you want to try something truly unforgettable, guests can rent Ferraris or go for hot air balloon rides. After a long day trying everything the region has to offer, relax in one of the hotel's Michelin-starred restaurants with a glass of the Brunello di Montalcino wine.
Click here for more information and to book your stay.
This 10th-century castle houses the luxury Belmond Hotel, located just an hour south of Florence. There are 39 rooms, suites, and private access villas on the property, each with nods to the historic grounds (stone walls and antique furniture) and modern creature comforts like heated flooring and electronics. Some even have private terraces and living rooms.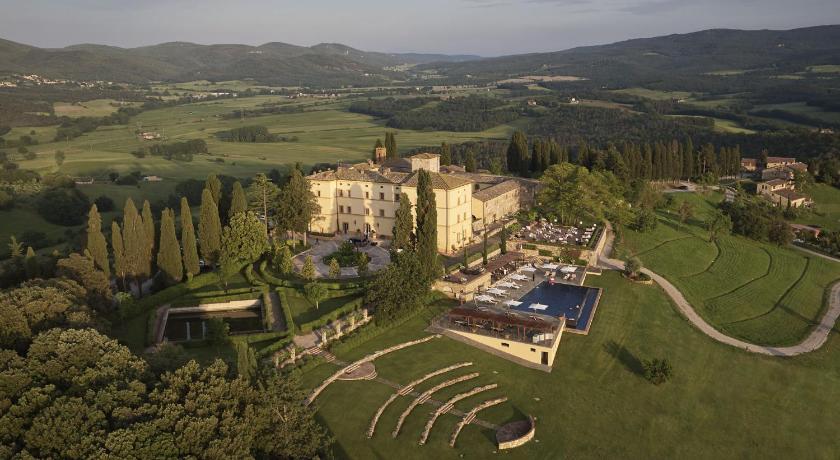 The hotel's Ristorante Tosca specializes in rustic, simplistic dishes that offer a taste of the region, while its bars and wine cellar allow you to sample local and national wines. The heated outdoor infinity pool even has a poolside bar, perfect for a refreshing spritzer after an afternoon swim. The Essere Spa offers customized treatments, massage therapy, and yoga classes. If you're trying to decide what to do with your day, try truffle hunting, cheese tastings, or water-color painting classes.
Click here for more information and to book your stay.
This beautiful boutique hotel looks like something straight out of an Italian painting. Set inside of the historic Castello Banfi, the hotel comprises nine rooms and five suites, each originally designed and offering both unique vintage and historical pieces, as well as modern amenities. All rooms have beautiful views of the vineyards and Tuscan countryside.
The Michelin-starred La Sala dei Grappoli restaurant serves Italian and Mediterranean dishes (in courses for an authentic Italian experience) with fresh, local ingredients and an array of the best regional wines. After dinner, wander over to the nearby L'Enoteca wine bar to pick out a bottle to enjoy in your room. Daytime activities include horseback riding, cooking classes, golfing, hot air ballooning, and massage therapy.
Click here for more information and to book your stay.
This is life in the lap of luxury. The Castello di Nero is a five-star COMO hotel, set on 740 acres of lush green countryside. The hotel offers a staggering 50 rooms and suites, designed with a clean and modern style. Upgrading to a suite gets you a private terrace, indoor seating area, fireplace, and even rare frescoes on the walls.
There is an outdoor heated swimming pool, a spa therapy retreat for ultimate relaxation, and fitness and yoga classes. The hotel offers courses in making your own wine, olive oil, or gelato. Other activities include evening stargazing, artisan atelier tours, and truffle hunting. At the end of the day, unwind at one of the hotel's restaurants, like the informal, stone-wall underground eatery near the kitchen, or the Michelin-starred La Torre. Either way, don't miss out on sampling the local wines. There is also room service available for a late-night treat.
Click here for more information and to book your stay.
This is a boutique wine resort located in the Chianti region of Tuscany. Records of the Castello La Leccia date back to before 1100, and homage to its history remains to this day. This is evident by the continued practice of winemaking (which has been happening on site since at least the 1500s), the original olive groves from the Middle Ages, and beautifully restored stone exteriors.
There are a variety of rooms to choose from, all of which come with a complimentary bottle of wine. There is also the Casa Earth, a five-bedroom apartment rental by the castle vineyards. The hotel offers a range of daytime activities, like pizza-making classes, truffle hunting, horseback excursions and hot air ballooning. If you want to get a little further than the castle grounds, the Chianti Archaeological Museum is only four kilometers away.
Click here for more information and to book your stay.
This incredible castle hotel is set inside of a walled 13th-century village, an hour southeast of Florence. The Castello di Gargonza is a beautiful former fortress stronghold, with ancient houses and a watchtower set within its sturdy walls. The hotel offers classic and deluxe rooms, suites, and full apartments for larger groups or families.
If you want to explore the areas around the village and beyond, there are bike and Vespa rentals available. There are guided tours of the grounds available, where you can explore the woodland surrounding the estate. Within the hotel, indulge in cheese & wine pairings, or indulge in the flavors of Tuscany at the La Torre di Gargonza restaurant, with a glass of wine in hand. Don't miss the pears and pecorino cheese-stuffed tortellini or wild boar pappardelle.