If there's one thing that will take your Italian countryside getaway to the next level, it would be staying in an ancient castle hotel. The best that Italy has to offer can be found in these medieval and Renaissance castle hotels: rich and fragrant cuisine, locally-produced wines, sprawling scenery, and even natural mineral spas.
Each one is steeped in history, with previous owners ranging from royalty to public figures, and their stone walls, wood vaulted ceilings, and terracotta floors have been preserved to give you the most authentic experience.
If you're passing through Italy's most romantic regions, stay in a castle hotel and you'll get a once-in-a-lifetime experience that you won't soon forget.
Disclaimer: This post contains affiliate links. This means that should you click on certain links, and then subsequently purchase a product, I will receive a small commission.
9 Amazing Castles to Stay in Italy
Location: Firenze
Located between Florence and Siena, this 10th-century castle keep was once owned by none other than Niccolo Macchiavelli. The castle sits on a hilltop overlooking the sprawling Firenze countryside. The hotel contains 12 apartments, each with terracotta floors and original vaulted wood ceilings, and some even have fireplaces. If you want to upgrade, higher-end units have Jacuzzis and private outdoor terraces.
Hotel amenities include a spa, outdoor pool, private vineyard, and chapel. Bike rentals are offered at no extra cost. The hotel is a half-hour drive from Florence, perfect for a day trip.
Click here for more information and to check the latest prices.
Location: Umbria
The Castello di Petroia consists of three medieval buildings centred around a castle, dating from the 15th century. Located in Italy's Umbria region between Gubbio and Perugia, this Italian castle hotel is set high on the hilltop for 360-degree views of the surrounding countryside.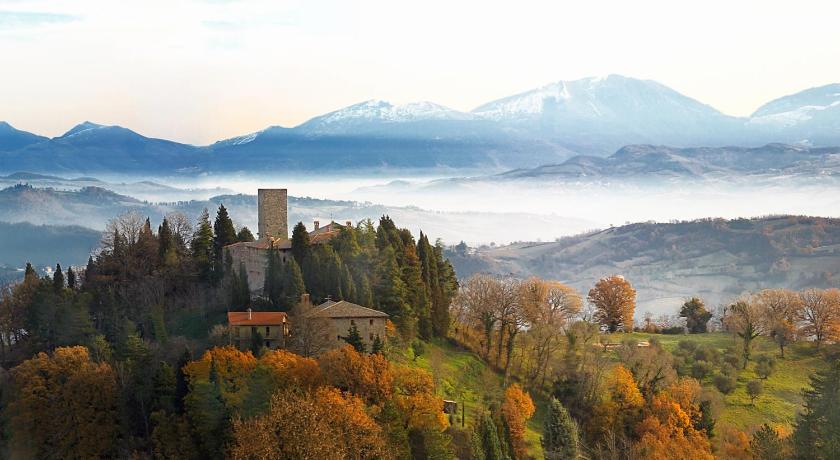 The three buildings include the castellare maggiore (main building), castellare minore (smaller building), and the medieval tower with an exposed top terrace.
There are 15 rooms at the hotel, each decorated in rich, earthy Mediterranean hues. Many rooms have Jacuzzis and whirlpool tubs. The candlelit restaurant, open from 7:30pm to 10pm, features Umbrian cuisine with a medieval spin. The area has a wealth of hiking trails and parks, and horseback riding is available.
Click here for more information and to check the latest prices.
Location: Tuscany, Grosseto
This beautiful 12th-century hotel in the Maremma hills of Tuscany is the perfect castle hotel to book a stay in Italy. The hotel is upscale, offering only 9 suites that each have unique amenities: a private infinity pool, wine cellar, fireplace, white marble bathroom, or private terrace. All around, the hotel is surrounded by lush olive groves, vineyards, and gardens; incidentally, this is where much of the restaurant produce is grown.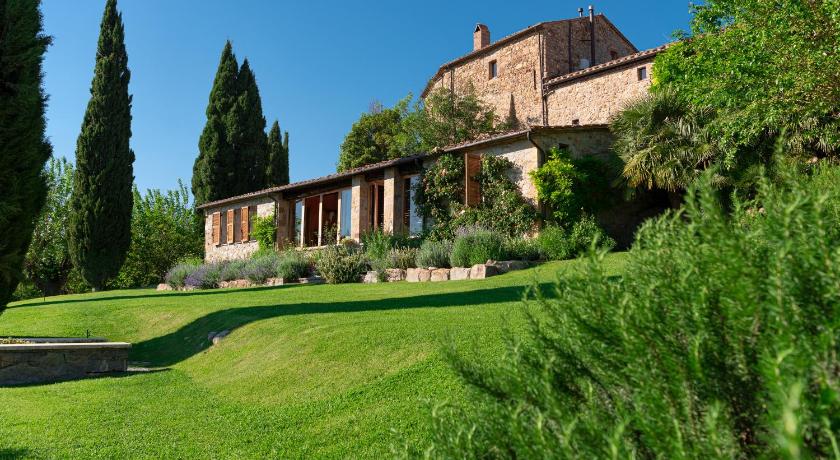 The hotel offers an array of incredible experiences for guests, such as wine tastings, cooking classes, horseback riding, and leather-making workshops. You can even learn how to harvest olives, truffles, and wine grapes.
Click here for more information and to check the latest prices.
Location: Tuscany
This 11th-century castle sits on a hilltop that offers stunning views of Chianti's Massellone Valley. The castle's sloping sides are home to the historic vineyards, which lend to the castle's ancient wine cellars. The hotel rooms offer a real Tuscan feel, with terracotta floors, wood-panelled ceilings, antique furniture, and modern elements. Some offer whirlpool tubs, private outdoor terraces, and fireplaces.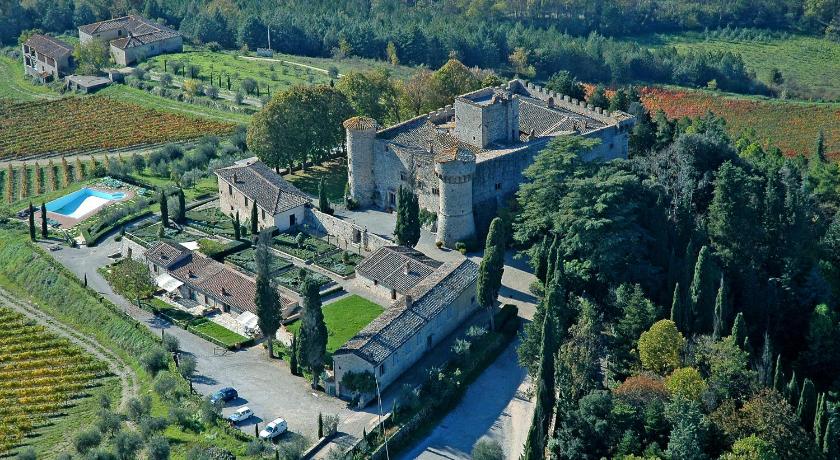 The hotel is pet friendly by advance request. There are two outdoor pools (which you'll undoubtedly be grateful for in Tuscany's hot summer weather). The hotel offers an array of wine workshops and tastings (including a make-your-own-wine), as well as visits to the beehives, meeting the cinta senese pigs and Tuscan cooking classes.
Click here for more information and to check the latest prices.
Location: Montalcino, Tuscany
Set on a stunning Tuscan hilltop overlooking the Val d'Orcia, the Castello di Velona is a restored 11th-century military watchtower housing an upscale resort hotel. Rooms combine original architectural features with modern luxuries, and some even have private thermal pools and outdoor terraces that provide sweeping views of the olive groves and vineyards.
The main draw of the hotel is the hot spring spa, which boasts mineral water pools, Turkish saunas, and treatments that utilize olive oil from the area's groves. At the end of the day, relax in one of the hotel's divine restaurants with a glass of Brunello di Montalcino, the wine made on-site from the hotel's own vineyard.
Click here for more information and to check the latest prices.
Location: Cuneo
This is a medieval castle, turned into a baroque fortress in the 18th century. While its foundations are ancient, the interiors feature parquet flooring and opulent chandeliers. The 12 rooms are named after prominent figures from the castle's historic past; their decor is regal, with antique furniture, Renaissance art, and modern comforts like flatscreen TVs and minibars. The rooms have beautiful views of the sloping hills or the property's gardens.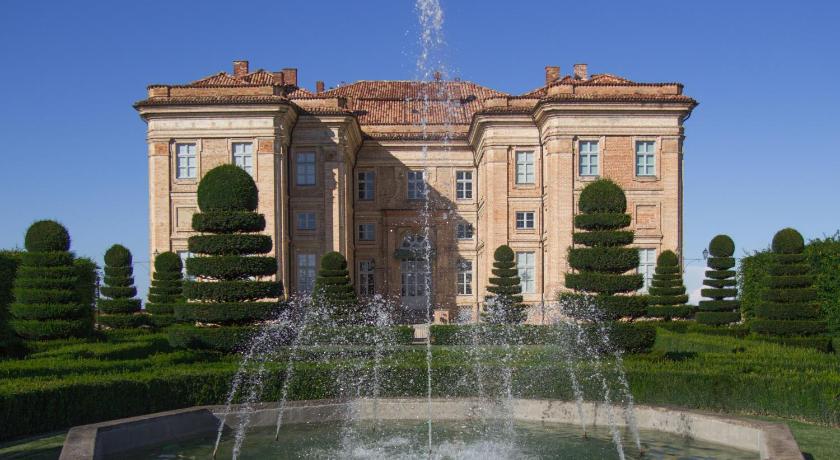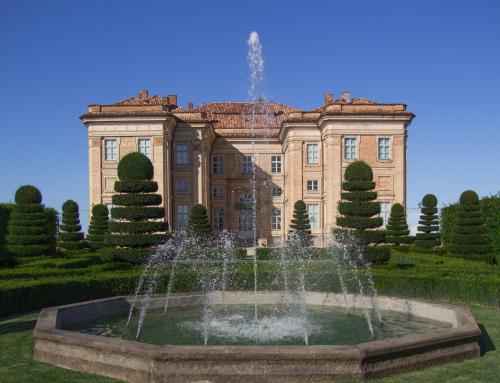 The resort offers cuisine from the Piedmontese region. The in-house spa has an underground pool excavated from the rock, lit artificially from within with blue lights that will make you feel like you've entered a fairy pool.
Click here for more information and to check the latest prices.
Location: Chianti
This 12th-century castle is in Italy's Chianti region. Originally a monastery, the monks' original quarters now serve as the guest rooms. There are a variety of rooms, suites, and private villas (with private pools), each with elements that speak to the castle's history, like stone walls, terracotta flooring, and antique pieces.
The hotel has two restaurants (one of which is Michelin-starred), and an underground bar and wine cellar where bottling occurs for the hotel's six in-house wine labels. The hotel spa offers Turkish baths, saunas, and both an indoor and an outdoor swimming pool – all of which contributes to a stay that is the epitome of relaxation.
Click here for more information and to check the latest prices.
Location: Alessandria
Set inside three buildings adjacent to an original 16th-century castle, this upscale bed and breakfast is a lovely getaway. The estate is bordered by parklands and vineyards (in true fashion for the Chianti region), and there is even a fishing lake.
There are standard rooms with minibars and TVs for added comfort and suites that offer living room areas, as well as views of the surrounding vineyards. One suite is even inside the castle's tower. The hotel offers a variety of wine tours, some with added comforts like picnics, tastings, and cheese pairings. The hotel restaurant is the perfect wind-down to your day or why not learn some new skills to take home with you by taking an Italian cooking class.
Click here for more information and to check the latest prices.
Location: Umbria
This stunning, pale stone castle dates back to the 13th century. From its vantage point at the top of a hillside, it has beautiful 360-degree views of the lush Umbrian valley. The hotel's immaculate grounds boast gardens with sprawling greenery and an outdoor pool. Its elegant rooms feature stone walls and original wood beams, with a dash of modern comfort for good measure.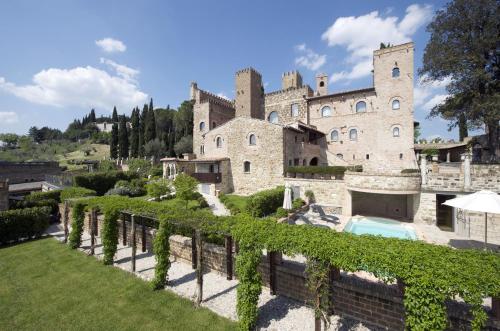 The hotel spa is not to be missed; it offers a sauna, Turkish baths, and a pool with hydromassage therapy. There is also a fitness centre. The bar is the perfect spot to grab a pre-dinner aperitivo (check out the original stained glass windows), before sampling the regional dishes offered by the restaurant.
Click here for more information and to check the latest prices.