When you think of European castles, you probably immediately think of quaint medieval towns in the Bavarian countryside. While Bavaria certainly has its share of castles, there are many more situated across all of Germany that are worth exploring. But why only explore a castle when you can spend the night in one?
Some of the best castle hotels in Germany are on this list, all with comfortable and appealing rooms, creature comforts, and amenities. Best of all, some are located in the most picturesque historical villages and towns. If you're traveling through Germany and seeking a hotel, be sure to check this list and see if any of these Schloss hotels are in your area.
Best Castles to Stay in Germany
Location: Hesse
This incredible 13th-century medieval castle hotel is located in Germany's city of Trendelburg. The hotel offers a variety of elegant room types for a range of budgets, each with the necessary creature comforts. The hotel's Castle Restaurant provides local cuisine with fresh ingredients sourced regionally. Seating options include a terrace, a private function room in the tower, or intimate wine tastings in the castle cellar.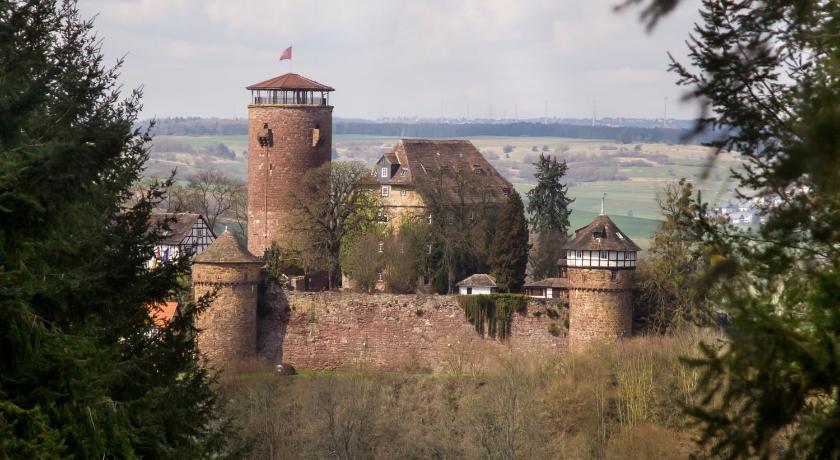 The ancient stone tower was reportedly claimed by the Brothers Grimm to be the original Rapunzel's Tower. You can even rent a room inside this tower or climb the 130 steps to its top observatory and use the telescopes to get some beautiful views of the surrounding countryside.
Click here for more information and to check the latest prices.
Location: Baden-Württemberg
This 11th-century fortress castle is easily one of the best Schloss hotels in Germany. Located in the Baden-Württemberg state, this is a partially ruined castle on a sloping hill, with incredible views of the Neckertal Valley, vineyards, and the Neckar River. The hotel, which stands adjacent to the castle, offers rooms featuring somewhat modern decor with dark polished exposed wood accents.
The hotel offers a range of activities, from boat rides on the Neckar River to wine tastings and informational wine workshops. The restaurant serves regional dishes in a beautiful dining hall with panoramic windows for the best views of the valley.
Click here for more information and to check the latest prices.
Location: Saxony-Anhalt
This 10th-century German castle hotel is located between the river Saale and the nearby village of Schkopau. The castle hotel is set on 22 acres of meadowland, which this region is well known for. It offers a variety of rooms for different budgets, all with comforts like large TVs and minibars. There is also room service.
The hotel has an in-house restaurant, a wine cellar with aging barrels, and a spa with a sauna. Forty-five minutes away by car is the city of Leipzig, Germany's eighth-largest city where there are plenty of sightseeing opportunities: art galleries, historical monuments, jazz clubs, coffeehouse tours, and unique shopping in the Südvorstadt district.
Click here for more information and to check the latest prices.
Location: Hesse
This 5-star luxury hotel is located inside of Kronberg Castle, constructed for the German Empress Victoria and Queen of Prussia. It is just a 25-minute drive from downtown Frankfurt, situated in Kronberg im Taunus, which is classified as a spa town thanks to its mineral water spring. The castle dates from the late 1800s, with each guest room individually decorated with antiques.
Inside, you will find some of the original furnishings from the castle's earliest days as well as art pieces on display, originally from the Empress' private collection. Hotel guests are given free access to the hotel's Königstein spa and the fitness centre. Don't miss Jimmy's Bar, which features custom cocktails, live music, and over 50 varieties of whiskey.
Click here for more information and to check the latest prices.
Location: Lower Saxony
This German castle hotel is set within the walls of the 1,000-year-old medieval Harburg Castle walled complex, located in Harburg on the outskirts of Hamburg. The castle sits high on a hilltop, next to a sheep farm, overlooking the village below. Rooms are simple but cozy, offering TVs alongside antique furniture. The in-house restaurant serves regional dishes.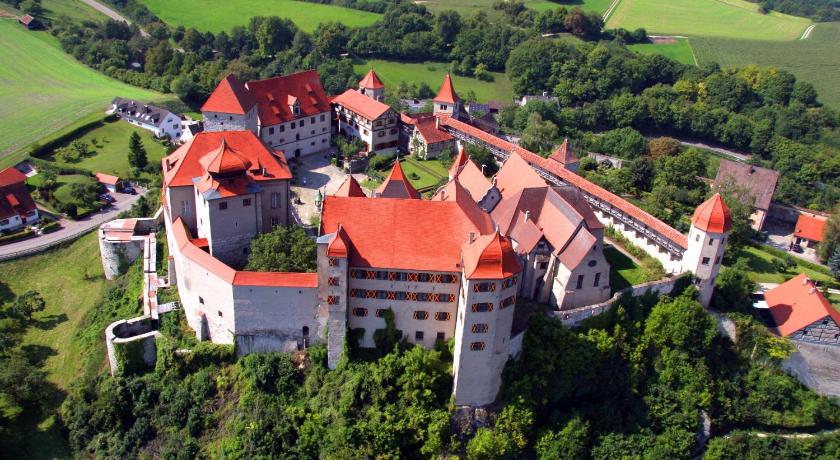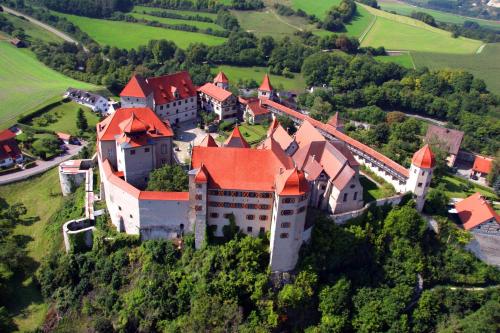 The hotel is located in the centre of the Stuttgart, Nuremberg, and Munich triangle, which are all less than two hours' drive away if you're looking for a day trip. Just south of the castle, across the state border in Bavaria, there is the village of Donauworth, located along the country's scenic route nicknamed "Romantic Road".
Click here for more information and to check the latest prices.
Location: Mecklenburg-Vorpommern
This beautiful guesthouse hotel is set inside of a Tudor-style castle building beside a lush green park. The castle is located in Bredenfelde, two and a half hours north of Berlin, in Germany's beautiful countryside. The rooms range from single rooms to apartments with kitchenettes. The rooms are beautifully designed, with hardwood flooring, whirlpool tubs, saunas, and elegant furnishings.
The countryside here is a popular place for hiking and biking. The hotel rents out bikes upon request and Großer Varchentiner Lake is just a few minutes away in a very bikeable area. After a long day out hiking or cycling, return home to the hotel and request a relaxing massage.
Click here for more information and to check the latest prices.
Location: Kettwig, Hessen
The Schlosshotel Hugenpoet is a luxury 5-star hotel in Hessen province and features a real medieval-style moat. The castle dates from the 17th century and offers a variety of rooms, each with unique but modern decor. All rooms have sleek bathrooms, many with soaker tubs, and feature a sitting area with couches and armchairs for maximum comfort.
Guests have access to the spa and sauna and the area's fitness club. There are also in-room massage services available. The hotel has two restaurants and the in-house Baronie bar is perfect for an after-dinner drink. The Essen city centre is only a 20-minute drive away.
Click here for more information and to check the latest prices.
Location: Görlitz, Saxony
This hotel is partly situated inside of a castle dating back to 1654, located in Bertsdorf-Hörnitz. The castle is next to an enormous, seven-acre private park. The rooms are located both in the ancient castle part of the hotel and in the newer adjacent building.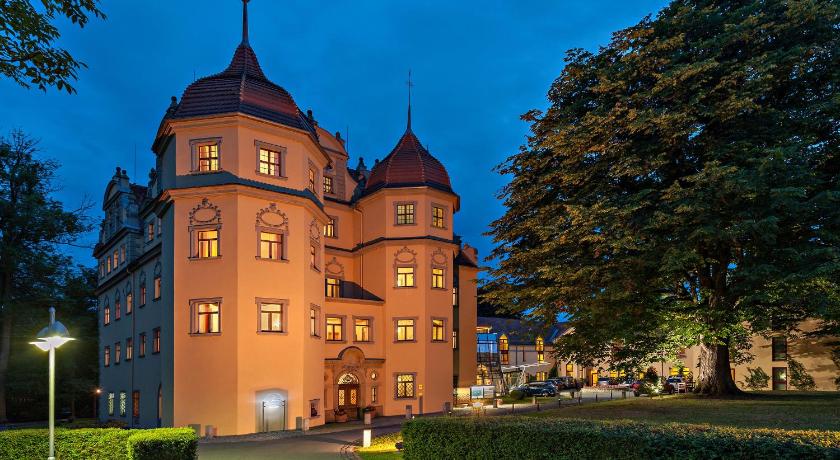 The bright and spacious dining room of the Hörnitzer Schlossstube serves dishes from the Upper Lusatia region and offers beautiful views of the surrounding parklands. Breakfast is served in the atrium-like Winter Garden Bistro, and end-of-day drinks at the Havana Bar will bring a high note to your evening.
The restaurant even offers semi-regular "murder mystery" dinner parties for any guests interested in adding a little intrigue play to their supper plans!
Click here for more information and to check the latest prices.
Location: Bavaria
This Bavarian castle hotel is located inside of a 1,000-year-old castle in the medieval town of Colmberg. Rooms are elegantly furnished in a modern style with some period pieces. The hotel offers a range of luxury amenities depending on whether you upgrade your room: whirlpool tubs, saunas, large four-poster beds or seating areas with couches. The hotel restaurant specializes in Franconian game cuisine for a true taste of the area.
Colmberg Castle is in the Frankenhöhe nature reserve, which makes this castle retreat an ideal spot for hikers and nature enthusiasts (check out the Jakobsweg and Wasserscheideweg trails). If you would prefer to cycle, you can rent bikes from the hotel and take the Altmühltal Radweg cycling route.
Click here for more information and to check the latest prices.
Location: Lower Saxony
This is an upscale, 5-star luxury hotel located an hour west of Hanover. It occupies a 16th-century castle and offers rooms in the main building or the adjacent renovated barn, each beautifully furnished with a mix of modern and historical decor. The hotel's main restaurant is Michelin-starred, and there is a cellar eatery for more casual dining. There is a spa with a large heated pool and Finnish saunas, as well as a golf course on the hotel's property where you can undertake a full 18-hole course.
The medieval town of Hamelin is nearby as well, which is the origin of the story of the Pied Piper, who led the children of the village away as revenge for not being paid for getting rid of a rat infestation.
Click here for more information and to check the latest prices.