Wales is by no means a large country, but packed into every square mile there seems to be a wealth of historical sites – churches, abbeys, remnants of ancient villages. One thing that the UK has in spades, whether restored or in ruins, is castles.
For most of us, castles are something we may never experience in our lifetime. However, for anyone lucky enough to visit, there are many castle hotels in Wales where you can spend a night (or more) in absolute luxury within walls once belonging to royalty and nobility.
No matter what you're looking for in a hotel—adventure, relaxation, or just a short little getaway—these six Welsh castle hotels are the best of the best.
You might also like: The best castles in South Wales and the best castles in North Wales.
Best Castles to Stay in Wales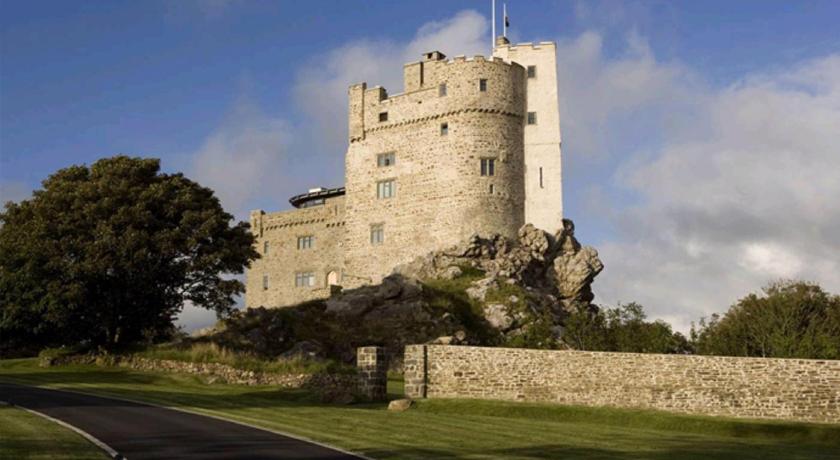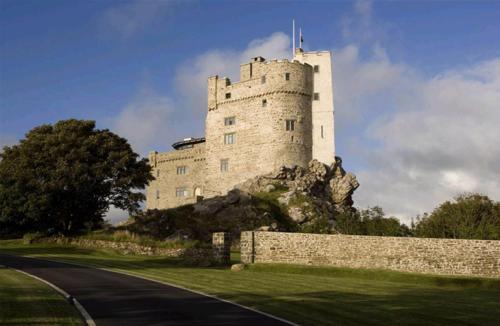 Location: Pembrokeshire
This 12th century castle is located in Pembrokeshire, on top of a small rocky outcrop. The castle is partially in ruins, which somehow only contributes to its sense of romance. It was likely built as a defense, being that it is located on what used to be an unofficial border between England and Wales.
Now a luxurious five-star, six-bedroom hotel, Roch Castle is a magnificent country getaway tucked on the western coast of Wales. Rooms, in stark contrast to the castle's ancient stone exterior, are designed in a crisp and sleek minimalist style. They have luxurious amenities like freestanding tubs and huge plus, king-size beds. Rooms provide inward views of the rolling green hills or outward vistas across St. Brides Bay.
There is an in-house restaurant as well as a bar serving some of the finest wines from Britain's oldest distillery. The castle's spa offers reiki treatments and massage therapy. The surrounding area is full of tiny villages and towns – all perfect destinations for daytime sightseeing.
Click here for more information and to check the latest prices.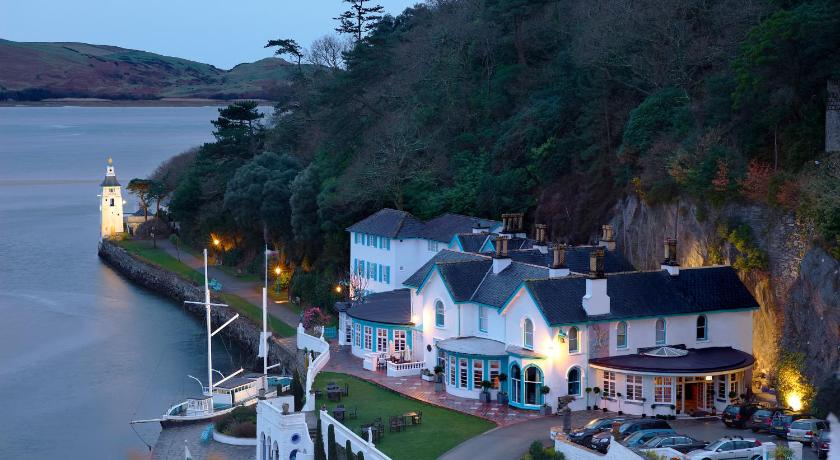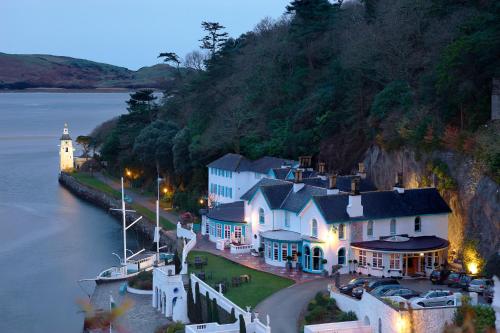 Location: Portmeirion Village, Gwynedd
The four-star Castell Deudraeth hotel is located on the grounds of Portmeirion—an Italian-style tourist village built during the mid-20th century by a Welsh architect. Before it was the mini-city's main attraction, it was a grandiose Victorian estate belonging to a member of Parliament.
The castle offers eleven rooms and suites decorated in contemporary style. Bonus – the rooms feature heated paneling beneath oak or stone flooring, perfect for chilly evenings. The castle is surrounded by woodlands and immaculate gardens, and there are sand beaches nearby.
At the hotel, don't miss the cozy lounge and bar, which features a stone fireplace and cozy seating. Order a glass of wine from their extensive wine list, or a tumbler of Penderyn whiskey, one of Wales' most famous. If you fancy something a little more substantial, check out the brasserie inside a conservatory, which offers lunch, Sunday lunch, and dinner options for guests of the hotel.
Click here for more information and to check the latest prices.
Location: Powys
This beautiful Welsh hotel is an 1840s, Gothic-style castle located alongside the River Tawe in the Swansea Valley. It is located within the Brecon Beacons National Park, a popular attraction for cycling, hiking, and camping as well as other outdoor activities like rock climbing and hang gliding.
The castle most famously belonged to Italian opera singer Adelina Patti who lived out her remaining 40 years at Craig-y-Nos and whose ghost reportedly makes the occasional (friendly) appearance. The hotel boasts 36 rooms and suites, as well as a hotel restaurant, bar, and fitness centre. Historical tours of the castle are free to hotel guests.
There are several things to do in the area. Pentre Stables, directly across the road from the castle, offers riding excursions into the beautiful surrounding countryside. There are many companies offering group trekking or other outdoor activities.
Click here for more information and to check the latest prices.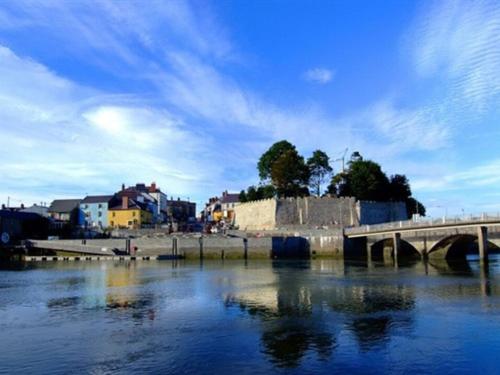 Location: Ceredigion
With a name like Cardigan Castle, you just know it's going to be a cozy getaway. This beautiful stone castle sits along the River Teifi, and dates from the 11th century. The hotel has beautiful views out across the river, as well as views of the equally-ancient arched stone bridge that sits across it.
The castle has a mix of B&B and self-catering rooms. All units are surprisingly modern inside, in stark contrast to the ancient stone walls of the outer castle structure. The restaurant & bar, Cegin 1776 Kitchen, has been constructed into the castle walls. It is modern in design, but the cuisine features long-standing and traditionally Welsh dishes like rump steak— and don't miss the full Welsh breakfast.
Despite being a small town there is plenty to do in Cardigan city – the Welsh Wildlife Centre, Ceibwr Bay, and Poppit Sands Beach are great for outdoor enthusiasts, while history buffs will be drawn to ancient sites like the preserved Iron Age Village and Cilgerran Castle.
Click here for more information and to check the latest prices.
Location: Denbigshire
Built in 1826, this beautiful castle hotel in Wales is set on a large parkland acreage, right near the Clwydian Range and only minutes from the city centre of Ruthin. The hotel offers a variety of rooms, from standard rooms all the way up to the lavish Prince of Wales suite, which boasts a platform-raised, king size bed, huge bay windows, an original carved wood fireplace, and wrought-iron chandelier. All rooms have the standard creature comforts like Wi-Fi and TVs.
Ruthin Castle has several dining options – feasts fit for a king at Bertie's Restaurant, which offers a pan-Euro-inspired menu; afternoon tea or alfresco snacks at the Library Bar; and classic Welsh dishes served in the newly-finished Dragon Tavern. The hotel also boasts a full Middle Eastern-inspired spa, a perfect wind-down after a day of seeing the sights.
This region dates from Medieval times, and many of its small villages still retain their oldest buildings. Specifically, check out the nearby village of Chester for the quintessential black-and-white buildings as well as the 13th century shopping galleries.
Click here for more information and to check the latest prices.
Location: Anglesey
This stunning, French-inspired castle was commissioned by the Baronet of Bodelwyddan for his wife in the 1850s – its turrets are starkly reminiscent of the châteaus in the famed Loire Valley, a region loved by the couple. It sits overlooking the Menai Strait, on a property that includes cottages and beautiful gardens.
Across the main château and its adjoining lodge, there are a total of 27 bedrooms, plus three self-catering cottages. The rooms offer ocean views or mountain views, and bedrooms are individually styled but equally refined and upscale. Upgrade your room for a large four-poster bed, or book a cottage if you'd like to add a kitchen. Le Dragon Rouge, the hotel restaurant, serves Welsh dishes with a regional influence, using ingredients sourced from nearby producers. Menus are rotated seasonally to get the best and freshest ingredients.
Some of this Welsh castle hotel's best assets include a private beach, wine caves, hot tub, and games room. Nearby attractions outside the castle grounds include the 6th-century Bangor Cathedral, and the austere Caernarfon Castle, originally constructed by the Romans.
Click here for more information and to check the latest prices.